What people say
'I have to say they (Classic Chain) are truly wonderful. Light but protective, warm but not hot and sufficiently close fitting to be able to grip and pick up small things as well as switch things on and off. Once I had them on I did not take them off until the the job was completed'.
Roger L - B, London
'Ive been buying Cutter Original work glove for teams of Gardeners for years. They are so comfortable, lightweight and robust I'm now buying them for my team of Rangers too. Dont bother buying anything else, they are simply the best on the market!'
Dan Booth, Head Ranger, National Trust
'My father LOVES Cutter Gloves. He also has a pair from Prince Charles Highgrove line and he never wears them, much preferring yours'.
Vaness C, London
'T
hey lasted really well. The material made a real difference when sawing, handling and chopping logs in wet conditions – unlike the Stihl leather chainsaw gloves I'd used previously they didn't wear through quickly at the fingertips. While I get that most folks use tongs in the forest, in the wood yard they're not good with sawn rings. So gloves that could take handing helped.


Overall I'd say they lasted about twice as long as the old gloves I used (about 40 tons, plus a week in the forest), but there's scope to do even better' (Cutter Pro Chain Winter)
Jeremy D, Forester
Great review in Horticulture Week recently. Our Chainsaw Gloves have been on test with the Hort Week team since the beginning of 2013 so they had plenty of time to put them through their paces. The feedback was very positive. Good enough for several columns in the issue. Rather than repeat all the text (its the same as all the stuff on the website) here is a picture of the review from the mag.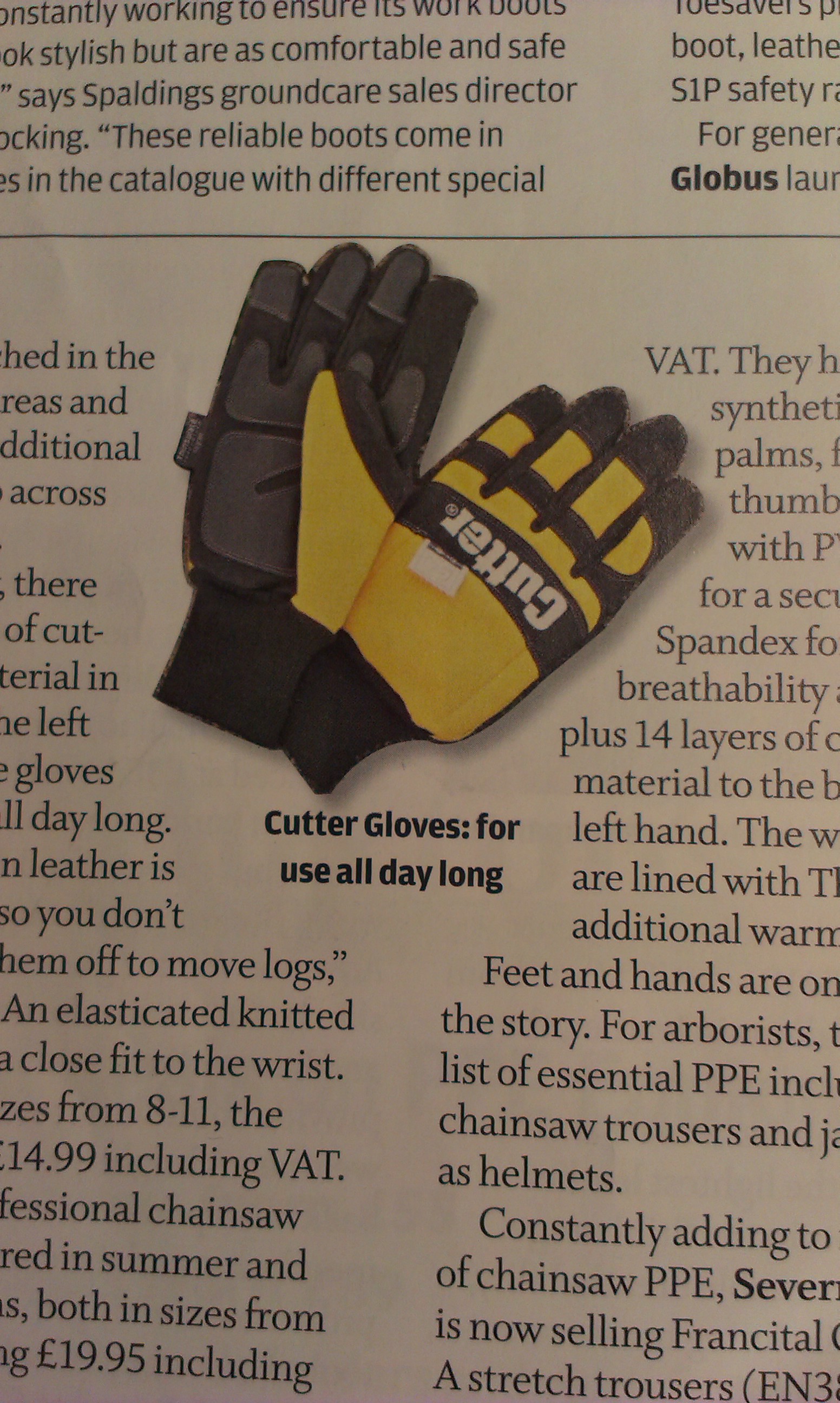 Horticulture Week
'The Cutter Classic Chainsaw glove is instantly comfortable, superb value and great quality'
Mr A, Forester, Cornwall
'It was flipping cold so they kept my hands nice and warm. Left hand Chainsaw glove suitably sturdy, right hand and trigger finger was on the money. Definitely felt the business and I have a fiar degree of experience with Chainsaw gloves'.
Mr C, Arborist, Suffolk.
'I have always struggled with gloves, and have in the past, bought expensive gloves that go through a finger as fast as cheaper ones, which is annoying. Cutter Gloves are not only great value but comfortable and natural to wear. The best work gloves I've ever worn.'
Forestry Estate Manager, Cornwall.
'I've got three pairs. Super tough, super comfortable. Would recommend to anyone who has to battle in the garden'.
J.F. Yorkshire
' I was cutting logs with a bow saw when I hit a knot and the saw slipped. If I hadnt been wearing my Cutter Gloves I would have definitely lost my thumb'.
Percy H., Kildare, Ireland
'Been using these gloves over the last few months and have found them exceptionally comfortable for all ground based tree and landscaping work. Can be slippery for rope work in the wet like all leather, but otherwise cant fault them'.
Ross W, Forester. Scotland.
'Mr W loves these gloves and uses them all the time and has recommended to lots of chaps.
I just think goats are amazing animals and I drink goats milk and we love their cheese'.
Mrs W, Somerset
'The gardening gloves are very comfortable and durable. The seams are particularly well sown so my usual problem of getting a hole on the top of my right index finger hasn't happened. Beware of the Womens sizing on these gloves so men need to order a size up from usual Cutter size. I would definitely recommend these gloves.'
Paddy H, Gardener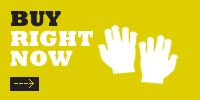 'For some time I have been wearing your gloves to work as they are awesome. My friend and I process logs for Devon Oak and she is always " borrowing " my gloves. I'm still wearing the pair I bought in October'
Nicky, Devon
'We have been using your gloves for a few years. We are hot air balloonists and find them perfect for our needs for comfort and safety. One pair will last us a season'
Chris, Balloonist, Somerset
I have tried the strimmer & trimmer, chainsaw and general hardware gloves and all three pairs were fantastic. As a tree surgeon I do put my gloves through a lot of abuse and believe me all three pairs could take it, I particularly liked the strimmer & trimmer gloves as they did "what it said on the tin so to speak." Fantastic price and definitely will be using again.
Paul, Paul's Tree Services, Suffolk.
'Sales seem to be increaseing. We have had great feedback on quality and practicality'
Agricentre. Wiltshire.
'By far the best Strim & Trim gloves on the market. I get them from Ernie Doe'
Tree Surgeon, Kent
'We all have the work gloves and I have the Pro Chain which is excellent. My gloves are still going strong after a year, which is exceptional'
D.A, Ranger Parklands & Venues